Here we are, the big day has arrived! You have finally found the wedding dress. However, have you already thought about its accessories? A simple piece of head jewellery, a veil or even a timeless bouquet can enhance your look even more, and your future husband will definitely have a "wow effect" by seeing you at the church door.
In the spirit of the "dolce vita", our wedding planner team has selected the small details that will make all the difference on your wedding day in Italy.
Stylish your hair
Who hasn't dreamed of becoming a princess on her wedding day? Now it is the time to wear the traditional tiara that will make you the queen of the day. The tiara is the perfect accessory if you have chosen to wear a dress with a cathedral lace veil. Instead, a comb or a headband is the way to go for a casual bohemian and chic look. Whether you choose bun or loose hair, these accessories will undoubtedly enhance your style. In general, headbands tend to highlight the back of the hair, so don't hesitate to match it with a sensual back necklace! Furthermore, when you choose the flower crown go for a country style that will lightly complement your dress. It is the must-have for a trendy style that gives you a very pretty look and adds a real plus to your photos.
If you are interested in this topic, continue getting inspired with 33 wedding hair ideas.
Timeless bouquet
In Italy, the bouquet is considered the groom's last gift to his bride before she becomes his wife. Much more than a simple accessory, it is part of your outfit and will make it unique. But be careful! Choosing the perfect bouquet is not that easy. In fact, it has to match your dress, your body type, your personality and with the season. If your wedding dress is long and voluminous, choose a small round bouquet that won't clutter up your look.
If your hips are wider than your shoulders, then the asymmetrical bouquet is ideal as it will balance your figure. Lastly, if you are rather romantic and sentimental, opt for a waterfall bouquet which brings magic and enchantment.
However, don't forget to choose your bouquet according to the season. Choose heathers in Autumn, camellias in Winter, peonies in Spring and of course roses in Summer. As you can see, there are as many ideas as flowers!
The veil, a romantic accessory
Veil or no veil? It's hard to choose because the decision to wear a veil or not will have a considerable impact on your dress. Long anchored in tradition, the veil is the essential accessory to enhance your bridal dress as well as your hairstyle on the big day. Indeed, it completes the outfit and adds elegance and refinement. This magical accessory for this unique moment will arouse great emotions in your loved ones.
​​From the little veil to the cathedral one and the waltz veil, there are plenty of models and ways to wear it. You can attach the veil to the bottom, to the middle or on top of your head with a comb or with small pins. We suggest you match the veil to your hairstyle: bun or loose hair, the choice is yours! In lace, rhinestones, pearls or crystals, your veil will light you up.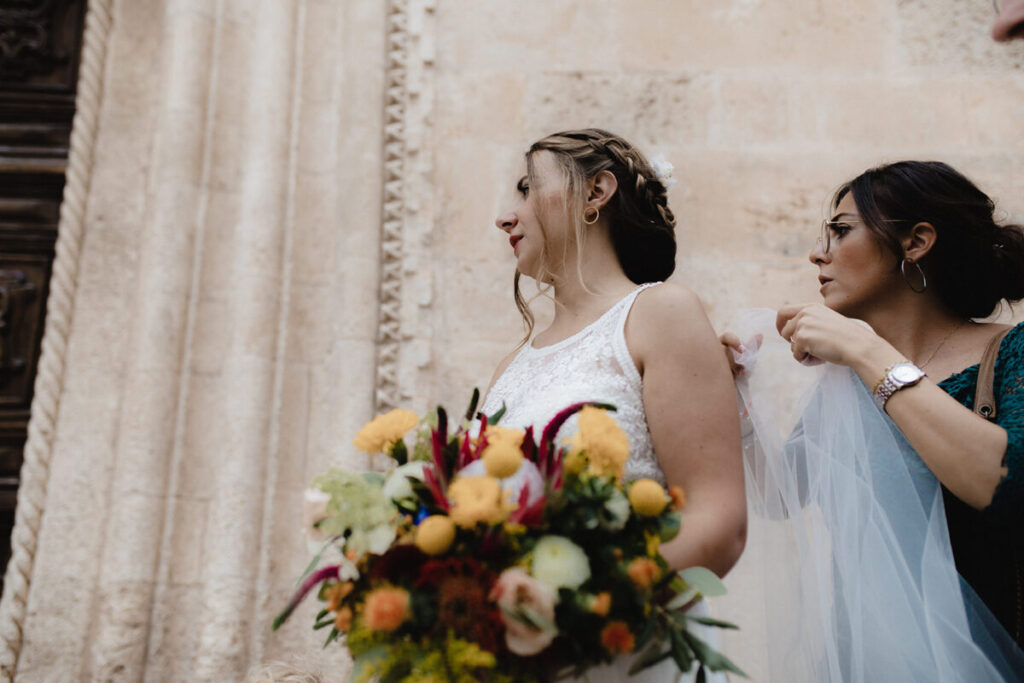 And what about you, gens?
Once you have chosen your wedding suit, you need to go on to the accessories. Do you want to stand out from the crowd? Then go for the buttonhole, it gives a poetic touch to your outfit. A flower on your suit is considered a detail of good taste and elegance.
This mini floral arrangement can be placed on your suit, either on the pocket or on the left lapel of the jacket. Do not forget that the buttonhole must absolutely match the bride's bouquet, your tie or bow tie and of course the theme of your wedding. With one or more flowers, white or coloured, the ensemble must be harmonious. Other gentlemen can wear the buttonhole too: usually, they are the father of the groom and/or the witnesses. Don't waste more time, choose your buttonhole and perpetuate this beautiful tradition. Our little tip is to make sure you have a spare buttonhole for the heat (especially if you decide to go for a Summer destination wedding in Italy or in Corsica) and for many movements that can damage the floral arrangement.
What if you offer your guests a typical accessory?
Are you tired of eating sugared almonds at every wedding? Fancy having a little more originality? Surprise your guests with a piece of Italy: a mini bottle of Limoncello!
You can make this emblematic drink by yourself with a few lemons, water, a little alcohol and a touch of sugar. Divide the Limoncello into small bottles and decorate them with a beautiful personalized label to make them unique. According to tradition, this gift has to be given at the end of the meal. In this way, your guests will leave with an unforgettable souvenir of this memorable day.
The pumo is also another typical and original gift. This ceramic rosebud is traditionally given at weddings in Apulia as a symbol of fertility and prosperity.
Want to know more? Contact us to arrange a virtual cup of tea and a chat.