YOUR CUSTOMIZED WEDDING IN ITALY AND CORSICA
---
Noces Italiennes is a French agency specialized in wedding planning in Tuscany and Apulia in Southern Italy, and in Corsica in France. These three dream destinations are ideal for couples seeking authenticity and change through unique and heavenly landscapes. The natural backdrop and the diversity of the wedding venues we have selected offer a wide range of atmosphere in gorgeous settings, totally different from traditional reception halls and hotels.
---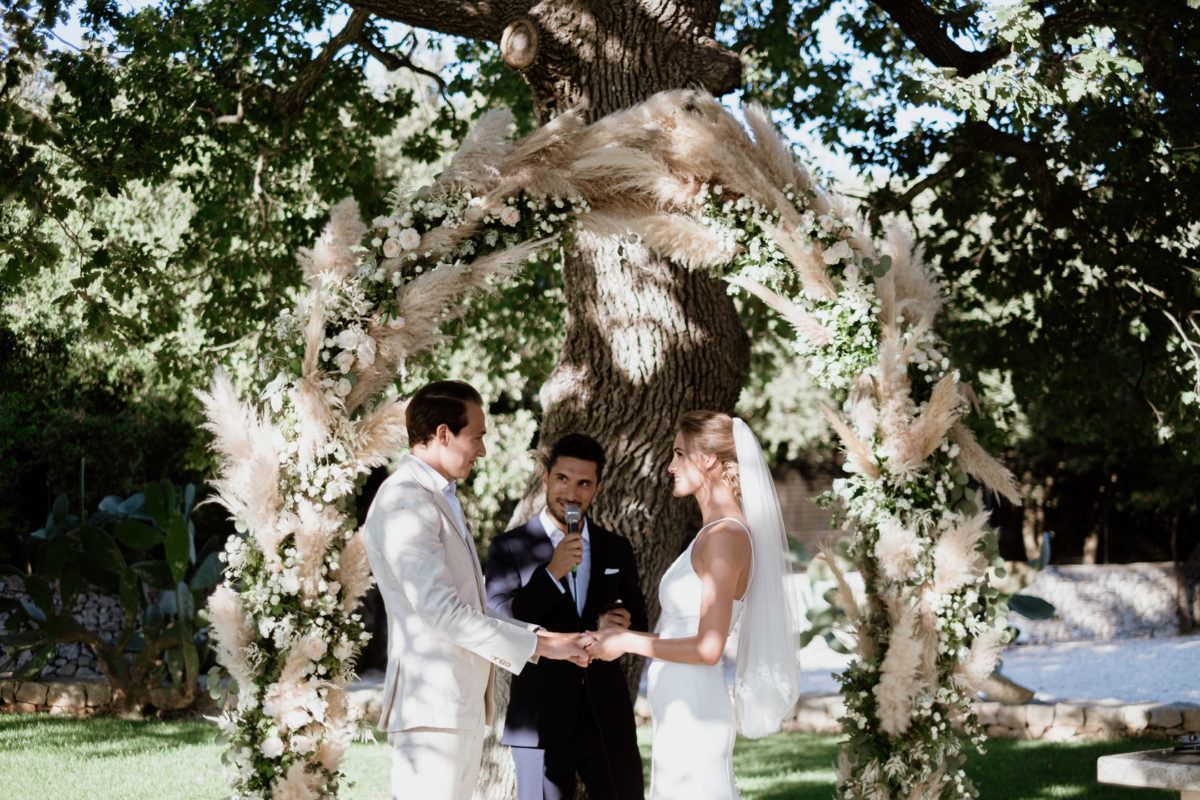 Our strict service provider policy allows us to guarantee the finest services to organize the perfect wedding day for you. Our agency is a gateway to the most stunning venues in our destinations : a romantic escape for a wedding in Tuscany, a chic ceremony on the stunning beaches of Corsica or an atypical and dolce vita wedding at the heart of Apulia! !
---
Our mission is to help you to organize your dream wedding!
Our expertise is based on strong values: Passion, Quality and Excellence, through which we have created and developed a bond of trust and closeness with all couples. Your wedding will not only be 24 hours full of joy and emotions, it will also be a memorable year of preparation with Noces Italiennes by your side.
---
Discover one of our weddings
---
WHICH WEDDING DESTINATION TO CHOOSE ?
---
Be it an intimate "elopement" or a spectacular wedding, foreign destinations are more and more appealing to couples searching for originality. Our agency has chosen these top destinations for their unique landscapes and the beauty of their location. Olive tree fields, crystal blue water and historical buildings win over the hearts of couples who love to discover new and original places. However, choosing your wedding destination can be a tough decision. To make sure you get married in the environment of your dreams, we will present you all the best features of each one of our destinations.
Read. Travel. Dream.
Tuscany: Somewhere between

---

romanticism and dolce vita
---
History and nature lovers will agree on Tuscany as the perfect place for a romantic wedding in Italy. The beauty of its historical monuments, the richness of its heritage and its infinite rolling landscapes offer a postcard-like background for your big day in Italy. Make the most of these natural hidden gems to plan a wedding photo shoot with a surreal backdrop. Vineyards, historical castles and Tuscan villas await you for your dream wedding amidst cypress hills and valleys. Tuscany also appears on top of the list of destinations for many travelers. It won't fail to charm your dear guests who will be thrilled to seize the opportunity to visit this beautiful region.
---
Read more about a wedding in Tuscany
---
Apulia: the heel of the Italian boot!
---
Apulia, located in "the heel of the Italian boot", is still little known by the public and it makes the region an ideal location to surprise your guests and stand out with the choice of your wedding destination. This Italian peninsula is surrounded by the Ionian Sea on the West side and by the Adriatic Sea on the East side and offers a generous 900 km of heavenly coastlines! The splendid natural landscapes and walks by the sea, the historical towns and the typical villages of the region of Apulia guarantee a total escape. Besides, the region grants you access to exceptional service providers at prices that are lower than in any other region in Italy. Apulia has in total two international airports: Bari and Brindisi to ensure worldwide access with several airlines.
Read more about a wedding in Apulia
---
Corsica: A great escape on a

---

heavenly island
---
"Beauty island" – Corsica's nickname is enough to charm couples in search of a private getaway with stunning landscapes. Located between seas and mountains, Corsica unveils the most phenomenal panoramic views with the most diverse coasts in France. Just a few kilometres away from the French mainland, the Mediterranean island offers a complete change of scenery with its wild trails leading to crystal clear coves and fortresses. You can easily imagine that Corsica is the ideal French destination for an authentic and original wedding. The small villages on top of the mountains and the breathtaking hidden beaches of this exotic island promise you a magical and unique moment. In Corsica, one thing is certain: Love is in the air!
Read more about a wedding in Corsica