Your wedding is an important moment you will always remember. What do you think of making a sensational entrance on your special day? To do this, rent the wedding car of your dreams to travel during the day of your ceremony. Your newlyweds' car is one of the pleasures of this unique day. It is thus essential to choose it with care. The price to rent a car varies depending on the distance travelled and on the model. To have a precise idea of the budget, you must ask for a quotation. Our wedding planners' team offers you a selection of the most beautiful models of wedding cars. Get the coach of your dreams!
A convertible car for a mind blowing wedding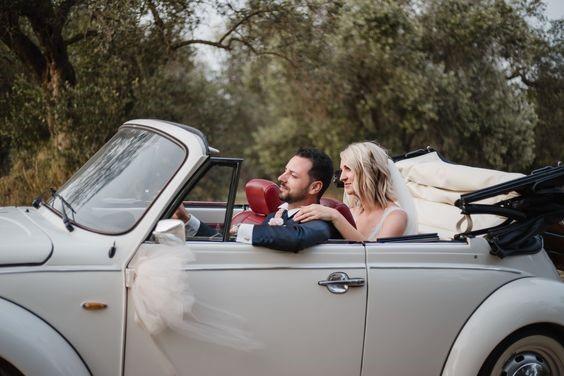 Open the cortege behind the wheel of a fantastic convertible. Both elegant and fashionable, the convertible is sensational for an outdoor wedding. This true gem answers all of your expectations. Recover your taste for freedom with your lover during one trip. But be careful! Check that the sun will shine on your wedding day. Don't hesitate to make the most of the car's design to take great pictures. Choose the convertible for its authenticity and fantasy!
Travel through times with a vintage car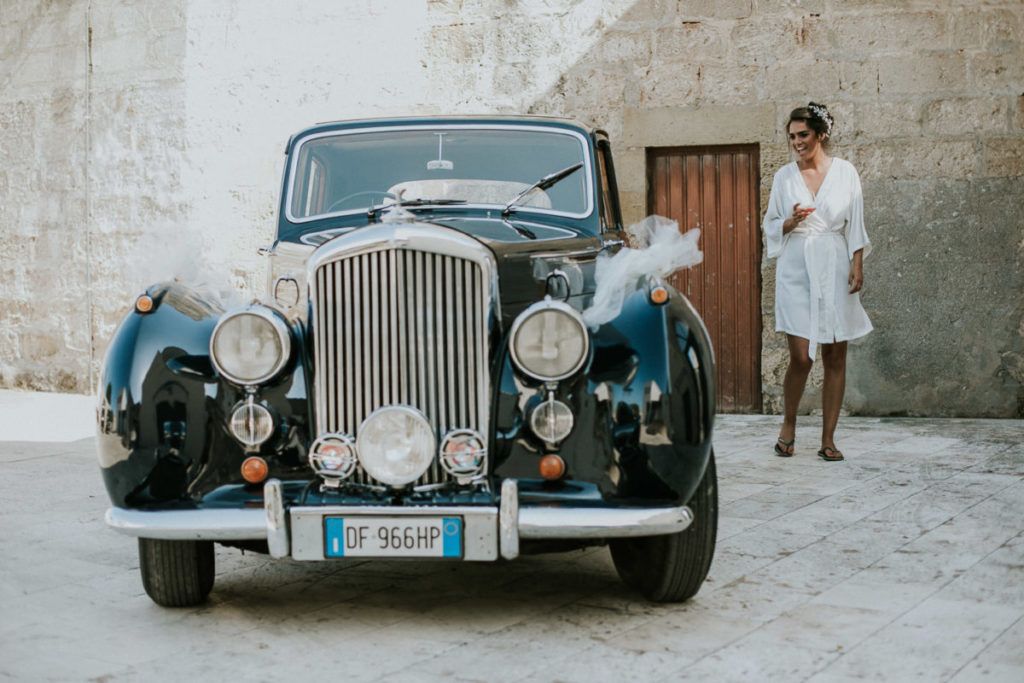 Driving a collection car is a dream many of you share. It is the opportunity to make it come true and go back in time! Renting a vintage car is more and more fashionable. It's sentimental value and originality are appealing. If you opted for a bucolic and natural wedding, this type of car is ideal. 
Among the numerous existing models, you may have trouble choosing. Period Fiat 500 are within the top 3 of the cars chosen by our couples of bride and groom. However, the Maggiolino cabriolet or the Jaguar 420 are excellent options as well. Discover a couple of  wedding car rental options. Rent these cars starting from 500€. In a vintage spirit, old cars will make an impression on your guests and magnify your pictures! 
Fly away with a sports car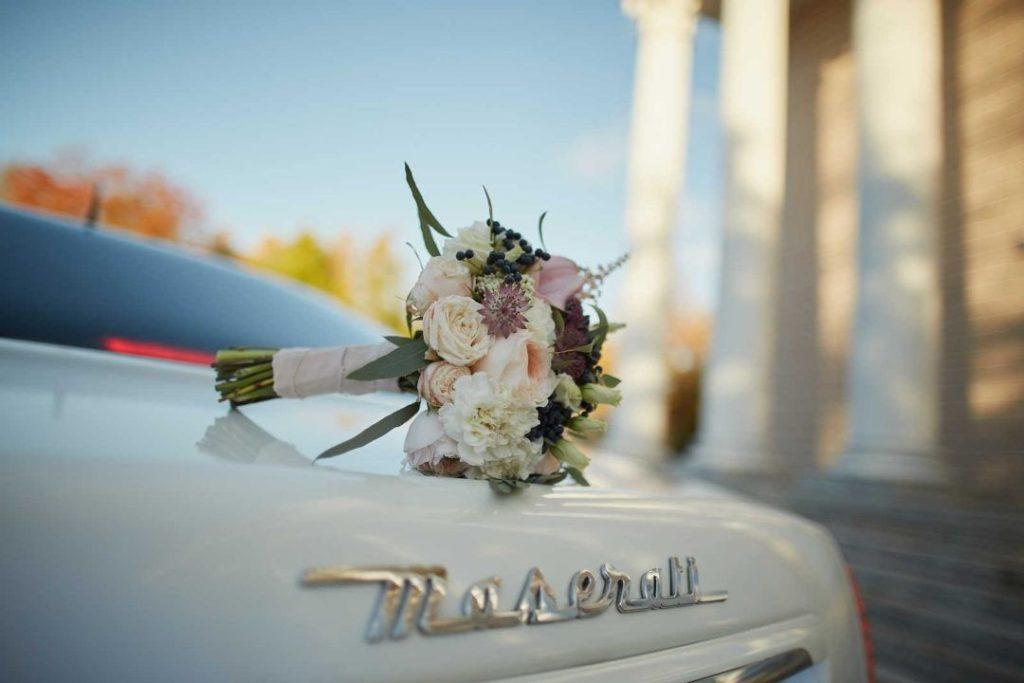 Synonym of luxury, the sports car will enchant all of your guests and make you feel special. Behind the wheel of this car, you won't go unnoticed!  It is the favorite choice for glamorous weddings. Nonetheless, don't forget that these cars have limited space and cannot fit many people. Most of them have two spots and if the wedding dress of the bride is bulky, it may be hard to travel in this type of car. If none of your guests has a luxurious car, count on the help of your wedding planner and her address book to find a rental company specialized in original cars.  
Now, you just need to choose the model… Between Ferrari, Maserati, and Aston Martin, you will necessarily find what you are looking for. Make your dream come true on your special day starting from 3,100€ per day. With a sports car, your entrance will be thunderous!
Why not go for a minivan?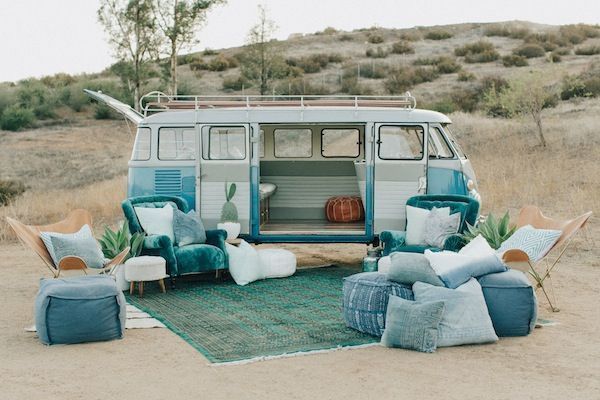 Surprise your loved ones with the Volkswagen Transporter minivan! This vehicle breaks the rules and makes your wedding original. You will enjoy an exceptional moment with the chic and casual inside of the van. The Volkswagen Transporter will make your wedding unique for a rental price around 700€. Share your happiness by inviting some of your guests for the trip to the reception venue and give them an insight of what will happen next. 
You can also transform your minivan into a photobooth for more fun! Your guests can share friendly moments and keep memories of your wedding party. For that, decorate the minivan in your way, put a Polaroid and a couple of accessories at disposal. Doing a photoshoot in a minivan is not a daily occasion!
How to customize your wedding car?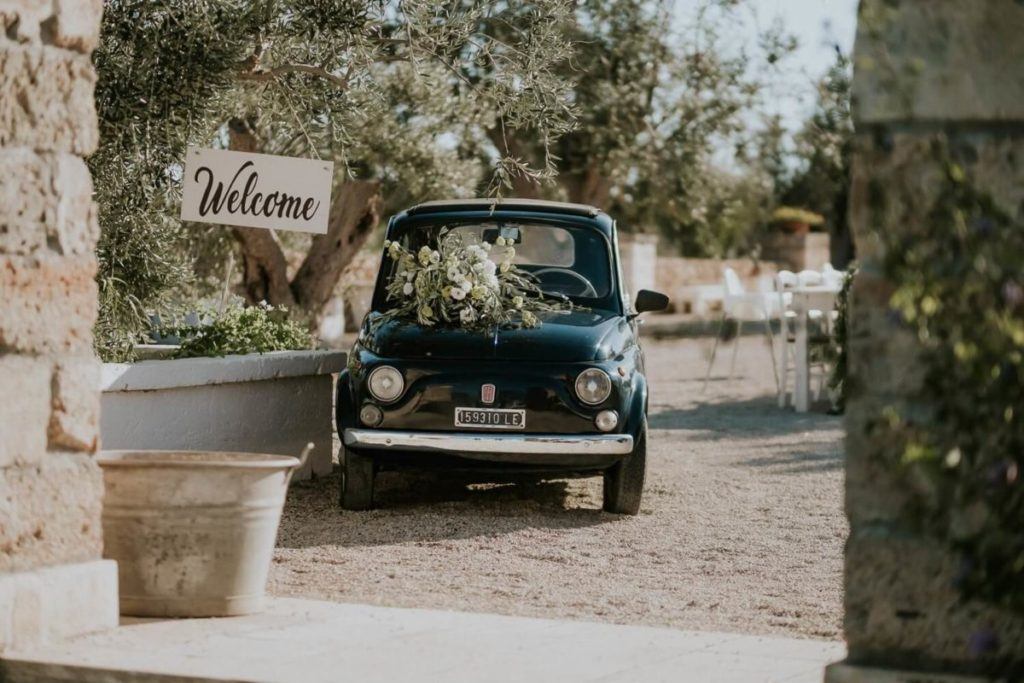 In a wedding, every detail counts. The car forms part of the decor. It must make your entrance unforgettable. Enhance it by decorating it according to the theme of your wedding, without overcharging it. Bet on elegance and simplicity with flowers, tulle, ribbons, and maybe biodegradable balloons. For example, you can recover the hoot with large tulle ribbons, or fix flower bouquets to the rear-view mirrors. To complete your decoration, hang the famous "Just married" sign in the back of the car. Let your imagination flow to make your car majestic and unique!