YOUR CATHOLIC WEDDING: A DREAM CEREMONY !
---
Getting married in Italy also means having the opportunity to enjoy the Italian culture heritage and architecture. A religious wedding ceremony is essentially an expression of faith where the divine showers blessings on a couple and their love. There are also many other reasons behind a Catholic marriage – the desire to perpetuate a family tradition or the wish to have a memorable ceremony in unique places where you can feel both spiritual and emotional vibrations. The largest Christian community in the region of Puglia is mainly Catholic. As a result, you can find historical churches in every corner so finding the ideal location for your Catholic ceremony won't be a tough task. Our team will accompany you to choose the most suitable church for your wedding day.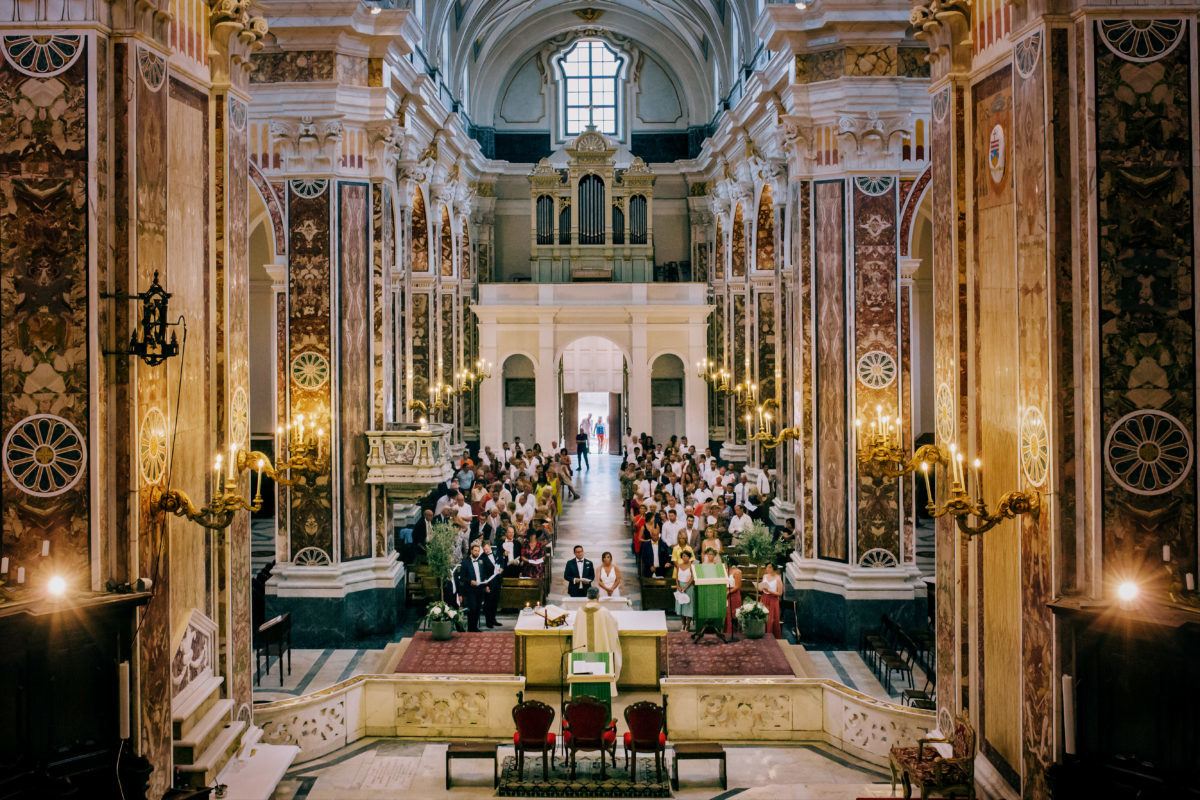 CHOOSING A CHURCH FOR YOUR RELIGIOUS CEREMONY
---
Let's not deny it: a wedding ceremony in Italy will be magnificent anyway with or without religious rites! A Catholic wedding in Italy will however give the incredible chance to celebrate a religious ceremony in one of the numerous Italian churches. For now, let's focus on the region of Puglia (our main destination): Its churches know how to amaze everyone and give couples the possibility to choose the church in which they wish to celebrate their union. Religious architectures in Italy are true masterpieces with centuries of history and incomparable beauty. The historical buildings and mural frescos that adorn the sacred walls of churches are enough to turn them into artistic monuments. You can choose to have a wedding ceremony in one of the most beautiful Tuscan cathedrals or in a small authentic basilica of Apulia. All the preparations for a Catholic wedding are carried out by the parish of both the groom and bride-to-be but the religious ceremony itself will take place in a church in Italy. The soon-to-wed will be able to have their religious ceremony in the enchanting, traditional and historical setting of a magnificent church in the Dolce Vita region. The choice of the church remains a very personal choice but your memories, family traditions, proximity of your wedding venue, number of guests or simply your aesthetic preferences can be discriminating factors.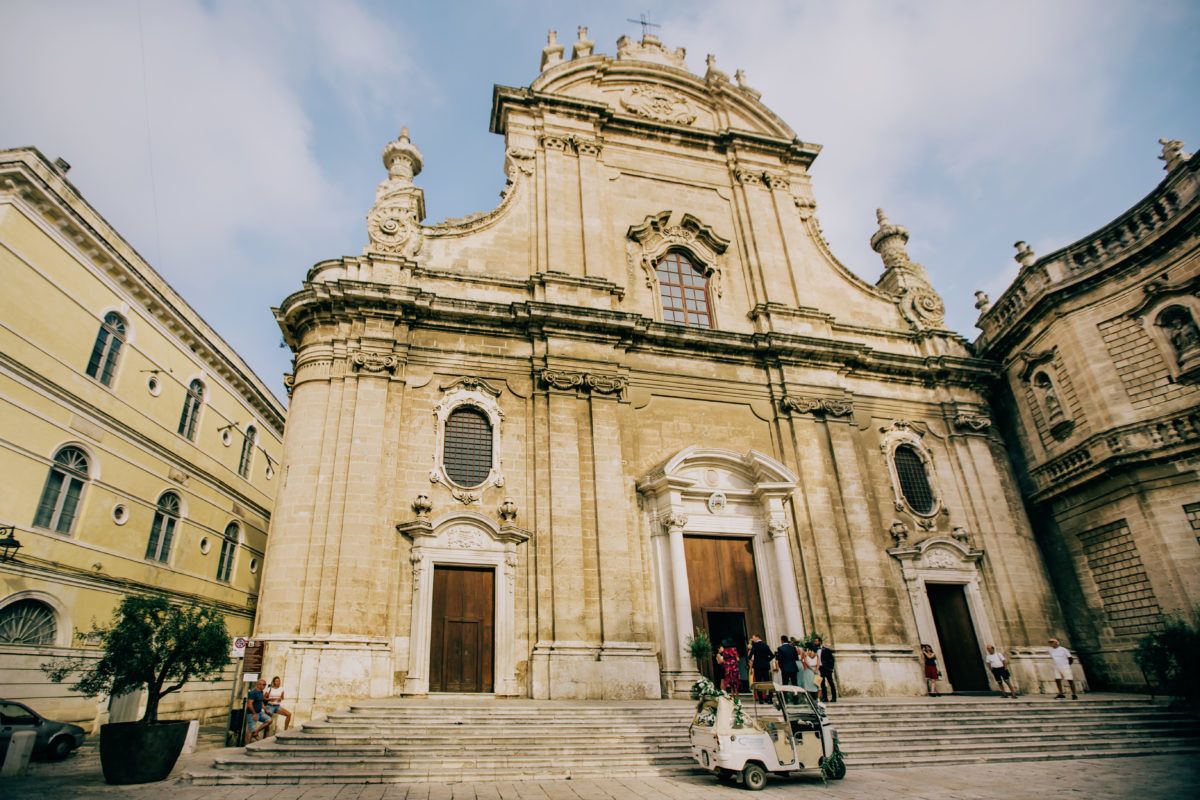 ---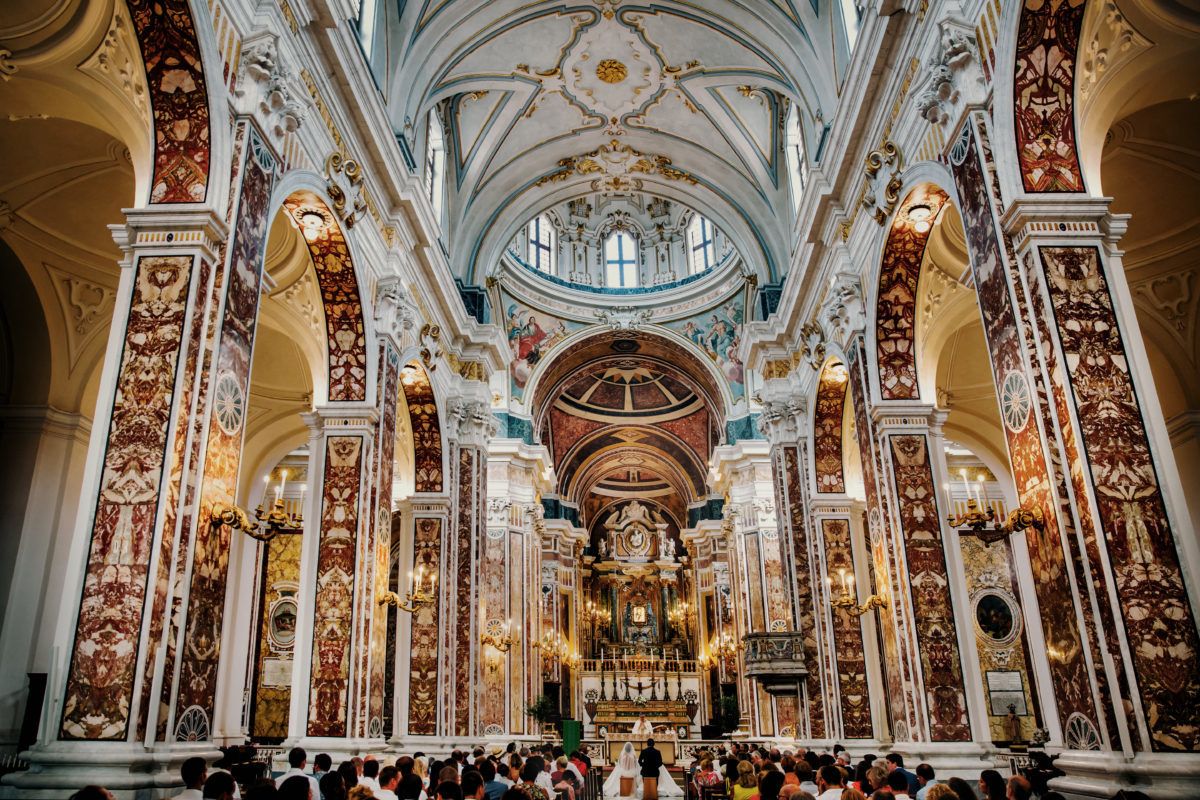 A BILINGUAL CEREMONY
---
If you want to celebrate a religious wedding in Italy, none of you has to speak Italian. Noces Italiennes helps brides and grooms to find both an Italian church and a priest so that they can sit back and enjoy the celebration of their union serenely. Some priests in Italy also speak English and they can be a part of your wedding ceremony without having to deal with communication issues. If the Italian priest doesn't speak English, the church service booklet can be written in both languages in order to make it easier for everyone to understand. If you are lucky enough to know a priest from your country of origin who agrees to accompany you to celebrate your wedding in Italy,our team will do its best to find a church that will match your needs. Noces Italiennes has organised several Catholic wedding ceremonies in Italy since its creation and we can guarantee you a wedding organisation handled with confidence and serenity. Our privileged relationships with priests in the region of Puglia make us the ideal intermediary for a foreign couple who wants to take a leap forward and get married abroad. We believe that it is important to advise you on the different traditions and customs of a religious ceremony in Italy but also to convey your desires to Italian priests so that your wedding ceremony remains a memorable one.
---
GET READY FOR YOUR CATHOLIC WEDDING
---
The preparation for your religious ceremony must be carried out with the priest of your parish. We advise you to get in touch with him as soon as possible and to take note of all the conditions that have to be taken into account while preparing for your religious wedding ceremony. For instance, in Paris many parishes ask for a whole year of preparation. You will have to get your marriage record ready with a priest and also organise several meetings with him so that both of you can explain your background, values, reasons for your marriage and also choose the reading texts. In the case of a marriage in Italy, your parish must send your file to the Italian parish you choose. Sometimes, couples have the opportunity to meet the priest who will celebrate their religious wedding a few weeks before to introduce themselves. Besides, if you wish to add a musical touch to your ceremony, do let us know at least six months before your big day. Our team will then be able to give you the music options as well as the prices. As you may already know, you won't be able to choose any kind of music or song. The parish will send you a list of all the musical pieces that will be allowed during your wedding ceremony.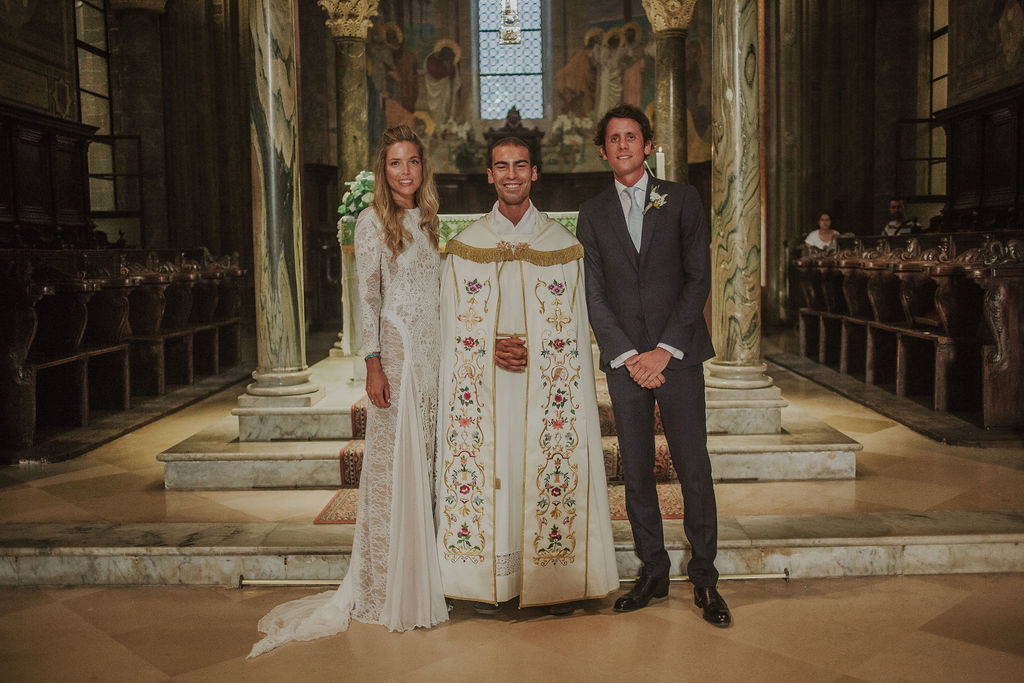 ---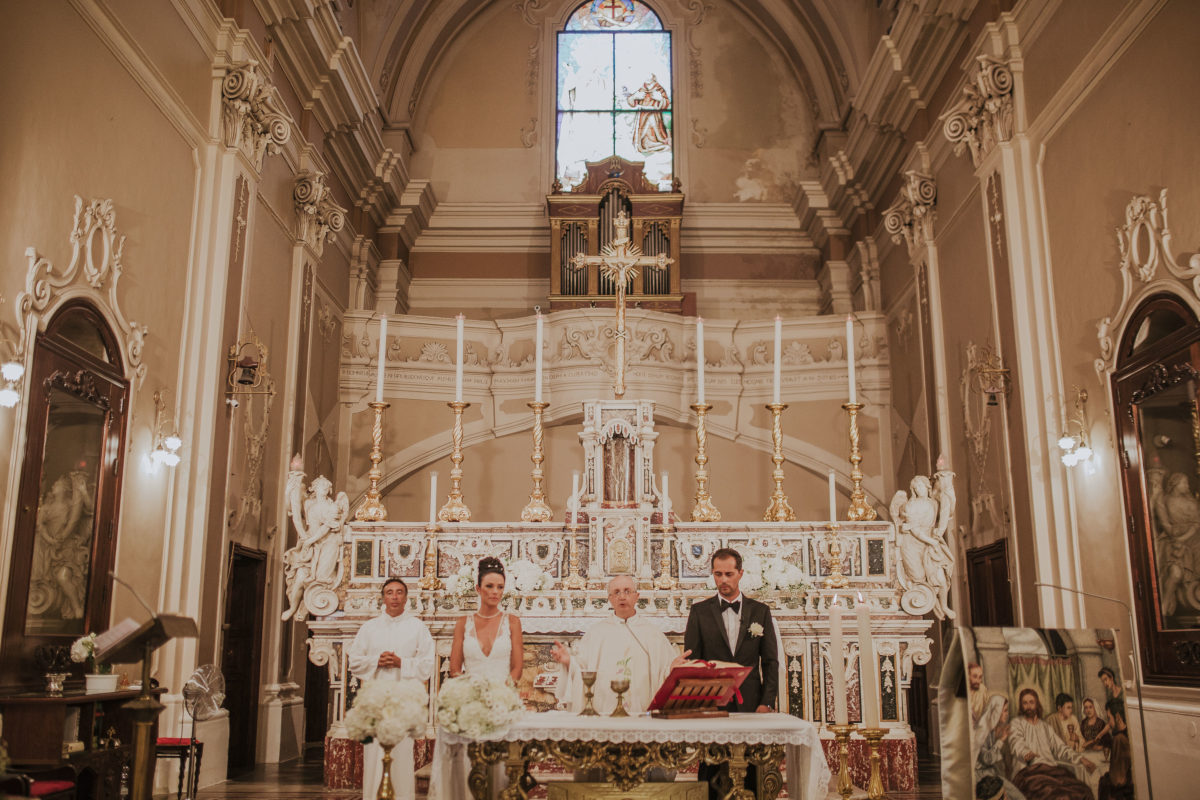 TRADITIONS AND CUSTOMS OF CATHOLIC WEDDING IN

---

ITALY
---
Catholicism is part of the cultural and religious heritage of Italy. As a result, the celebration of religious wedding ceremonies may be prohibited on certain days of the Catholic festive calendar. This is particularly the case for Holy Saturday of Easter week, for Assumption of the Virgin Mary on August 15 as well as for Christmas. Weddings are also prohibited on Sundays. Italian churches often agree to celebrate marriages even when only one of the two spouses is baptised. If you want your ceremony to be celebrated by your family priest, you can be granted permission from the Italian priest in charge of the parish and for this, we will be there to help you as intermediary. In some cases, priests agree to read the texts with a priest from another church but they've got no obligation to do so. In Italy, the number of religious witnesses is limited to two per spouse. However, some priests do accept up to three witnesses from each side. Besides, brides have more freedom to choose their wedding dress as white colour dresses are not imposed for a church ceremony in Italy. Italian priests are very strict when it comes to music though; forget about Céline Dion or any other non-sacred music. Only one liturgical repertoire will be allowed and will be played every time including the bride and groom's entry. Some churches even have a limited list of songs and music that are allowed and if you want to have a look at this list, our team can share it with you.
---
MATRIMONIO CONCORDATARIO IN ITALY
---
In other European countries, if you want to get married in a church, you first have to get married in a civil ceremony in a town hall. In Italy you can have both your civil and religious ceremonies at the same time as a concordat exists between the Church and the State. In other words, you don't have to go to the town hall to get married civilly to be able to celebrate your religious wedding ceremony. This option also applies for foreign couples who wish to get married in Italy. The matrimonio concordatario in Italy is both a civil and religious marriage. In case of a matrimonio concordatario you have to send your religious file with the Nulla Osta that will automatically be transmitted to the church. Like town halls, some churches handle the transmission of marriage certificates to the authorities concerned. On the contrary, sometimes the marriage certificate will be given to you and you will have to take it to the embassy yourself. Note that it is up to the bride and groom-to-be to choose for a matrimonio concordatario or not. If you want to get married civilly in your country of origin and come to Italy only to celebrate your religious ceremony, it's totally possible! In both cases, Noces Italiennes will be by your side to accompany you step by step in all your administrative and religious tasks.