MASSERIA : THE IDEAL VENUE FOR AN AUTHENTIC DREAM WEDDING IN ITALY
One of the most typical places in Italy for a magnificent wedding ceremony is the masseria in Puglia. Apulian masseria is the perfect place if you dream of a wedding in an authentic atmosphere. Its vast outdoor areas and alleys of olive trees are ideal settings for a simple and authentic romantic wedding. Weddings in such locations will give you and your dear guests the unusual chance to discover a part of Southern Italy's soul and share an unforgettable moment together.
---
WHAT IS AN APULIAN MASSERIA? ?
---
Apulian masseria can be found literally everywhere in Puglia. These historical properties date back to the 16th and 17th centuries. They used to serve as residences for an entire community. Some even date back to the 10th century. These white stone mansions were at that time the landlords' mansion. The owners developed vegetables and cereals farming, livestock breeding and even the conservation of precious food items such as salt. These properties are now used as hotels or reception rooms. Many masseria in Puglia have been renovated and are now authentic and luxurious properties of Southern Italy. Choosing to celebrate your wedding in an Apulian masseria means also choosing a place full of ancestral traditions and history.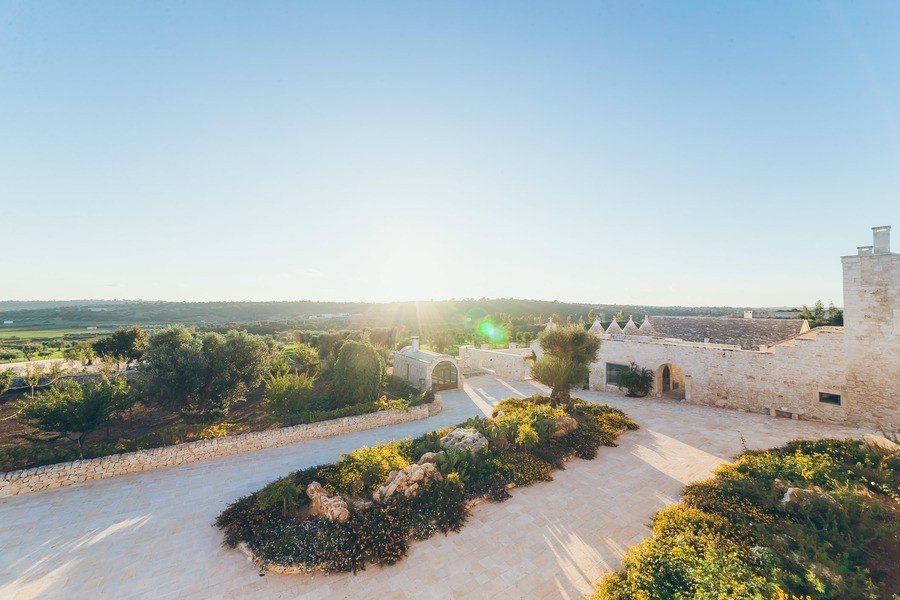 ---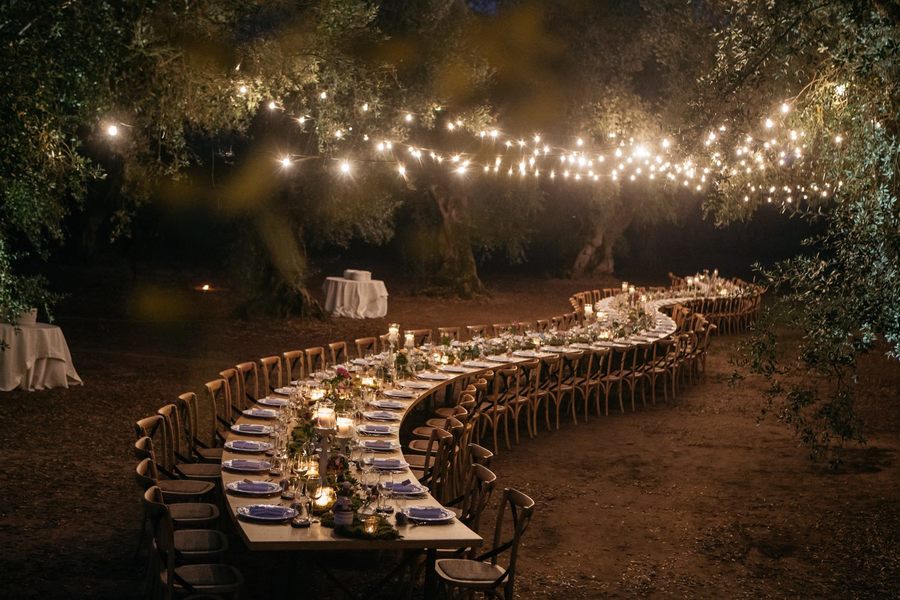 THE ROLE OF A MASSERIA IN PUGLIA TODAY
---
Today, masseria are real delights for tourists as well as couples planning to get married. The vast outdoor spaces have been renovated for the pleasure of visitors. The stone walls of the old mill serve as benches for lovers who need some rest. The infinite fields of olive trees are ideal settings for a party with friends or a beautiful shabby and chic wedding ceremony. Some owners have chosen to transform their main homes into B&B and allow guests to stay in these enchanting settings. Our team in Italy can also organise an amazing stay for you and your guests and extend your wedding festivities with a light lunch on the day following your wedding for example.
---
CHOOSE A MASSERIA AS YOUR WEDDING VENUE
---
Many couples choose masseria for their wedding in Italy and that too for the right reason: It is one of the most suitable places for a wedding in Puglia. They privilege the authenticity of historical places to celebrate their wedding and at the same time they seize the chance of getting immersed in Italian history. Our team has selected locations which have preserved their authenticity and have remained impregnated with their original décor. Due to its initial rural characteristics, masseria have large outdoor spaces. Centuries-old olive groves are also ideal settings for an original wedding meal with your loved ones. Some masseria even have many modern spaces with swimming pools or natural waterfalls, ideal for a chic and rural theme wedding! The fields of olive trees will light up your meal served on antique wooden tables and the paved courtyard will resonate with the laughter and joyful cries of your guests.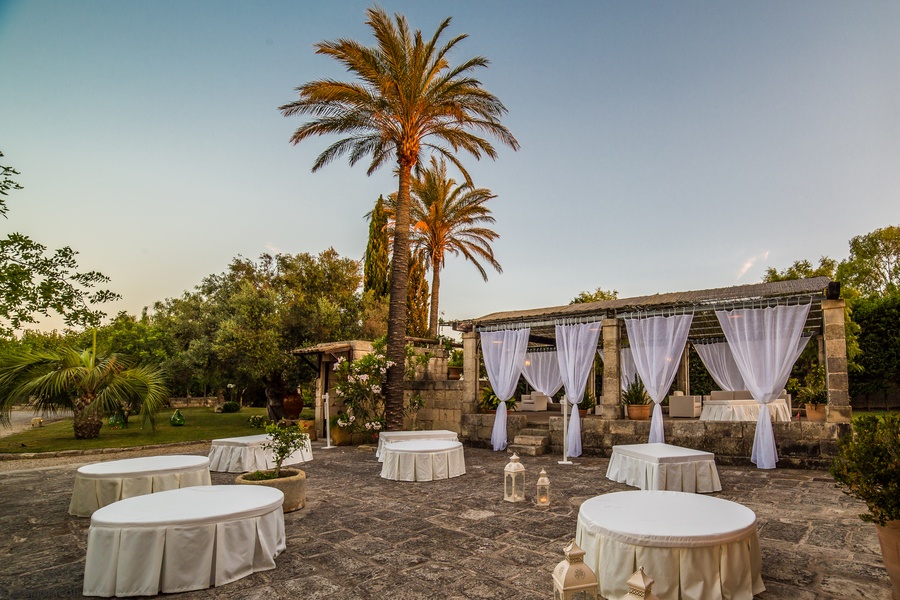 ---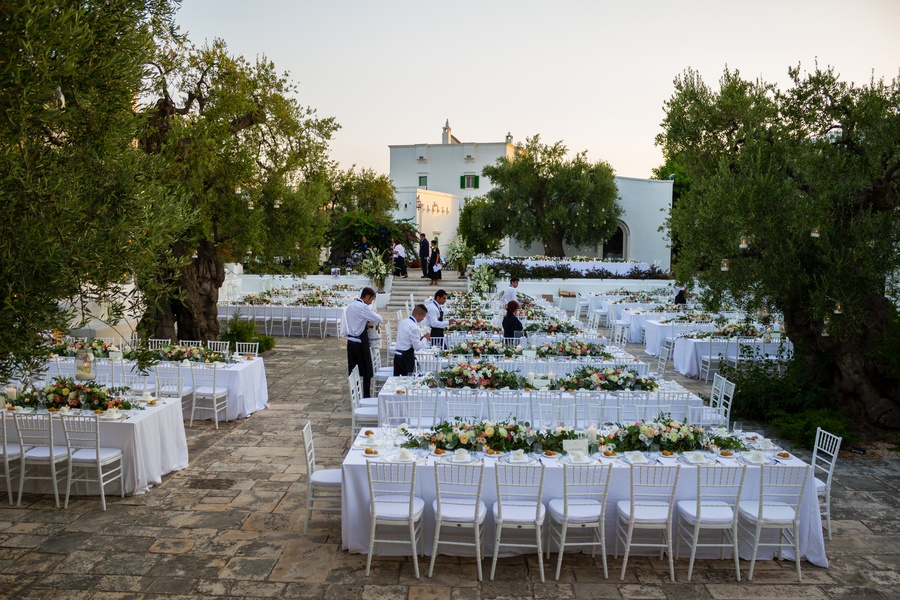 HOW TO CHOOSE A MASSERIA FOR YOUR WEDDING IN

---

ITALY?
---
If white stone is a common element to all masseria, they are all very different from one another. Brides and grooms can therefore choose a venue that reflects their personality the most from the wide selection of authentic masseria proposed by Noces Italiennes. Rustic and yet sophisticated, the masseria unveil centuries of history and the owners' tastes and promise to satisfy couples from all over the world. The vast spaces seduce brides and grooms who dream of an outdoor ceremony and party. Couples and their guests will also have the privilege to taste the pleasure of la dolce vita. So if you dream of celebrating the most special day of your life in an Apulian masseria, do not hesitate to contact us!
---
CREATE YOUR WEDDING DESIGN IN AN

---

APULIAN MASSERIA
---
If you want to organise your wedding ceremony in a masseria in Italy, our team in Italy will be at your disposal to realise a personalised décor and adapt your desires to your chosen wedding venue. Olive trees are present literally everywhere in Puglia and are ideal for magical artistic illumination. Instead of distorting the authenticity of the place, we envelop it with the charm and magic of marriages and create starry skies with garland of lights. Personalising an Apulian masseria will allow you to express yourself, your life experiences together and your love story. Whatever your wishes and desires are, we will work side by side to make this day unforgettable for you all!