YOUR JEWISH WEDDING CEREMONY:TRADITIONAL BUT UNIQUE !
---
You're planning to get married? And your dream is to have a kosher wedding with all due respect to Jewish traditions and customs but with an exotic touch? Mazal Tov! Celebrate your Jewish wedding ceremony abroad and enjoy a surreal holiday. Our team has selected the most incredible locations in Corsica and Italy as well as the best local suppliers to make your dream wedding come true. Believe it or not but your guests won't get over your wedding celebration any soon!
GET YOUR HENNA UNDER STARRY SKIES
---
Getting married on a foreign land is also the chance to make the most of a totally different scenery to organise your henna party. Jewish traditional weddings customs are several days long and are marked by unique and magical moments to celebrate your union. One of the main pre-wedding traditions in Jewish culture is the henna party which is also a good opportunity to surprise your dear guests. The henna party usually takes place in the evening post the civil marriage. The bride and groom are dressed up in oriental clothes and share a traditional meal with their loved ones in a festive atmosphere. Songs and dancers are also part of the night and our chosen photographers will immortalise all these special moments for you. Meals served at a henna party and other Jewish wedding events are all certified with due respect to Jewish law. During the henna ceremony, a brown paste made of henna is applied on the bride and the groom's palm and a golden coin held by a red ribbon is attached to bring luck and happiness as they embark on a new journey together. The guests also offer baskets of gifts to the bride and groom-to-be to bless their union. The sublime gardens of Apulian masseria are privileged locations to organise your henna party and share a night full of festivities with your loved ones: evening grill, oriental dancers, typical orchestra in exceptional Corsican or Italian locations to celebrate your dream kosher wedding.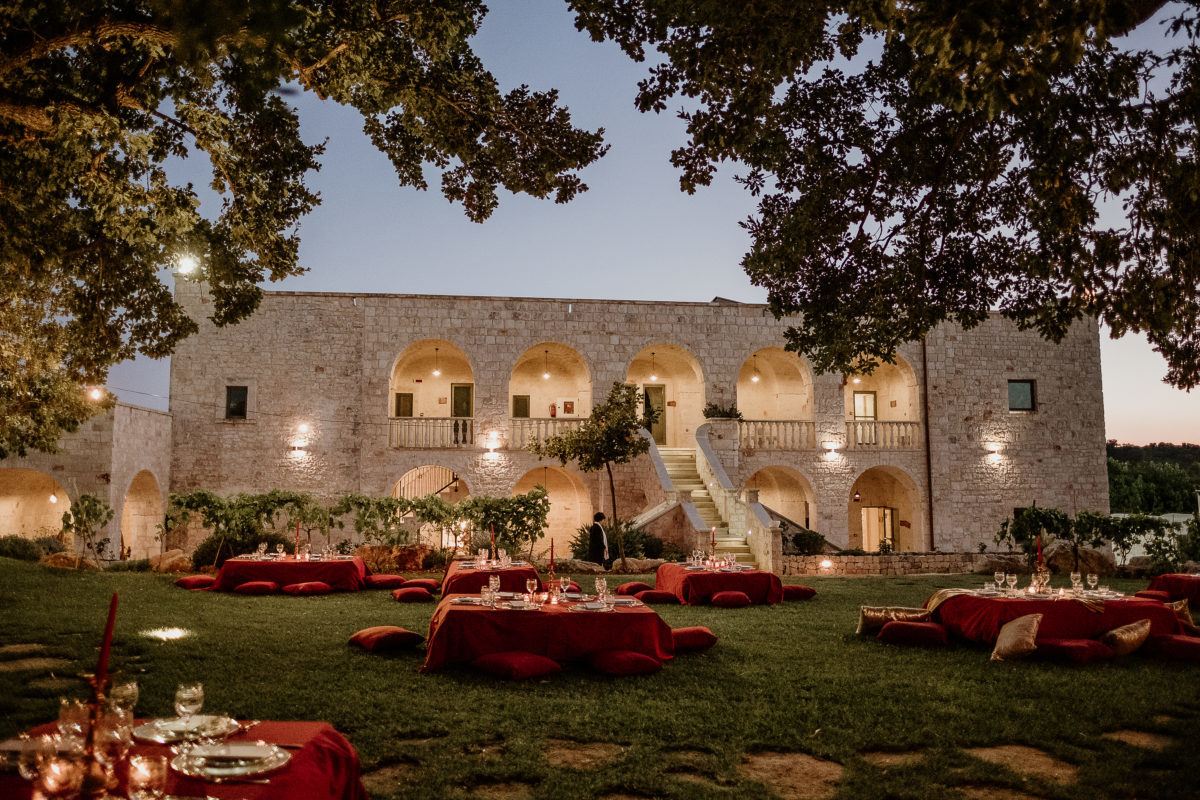 ---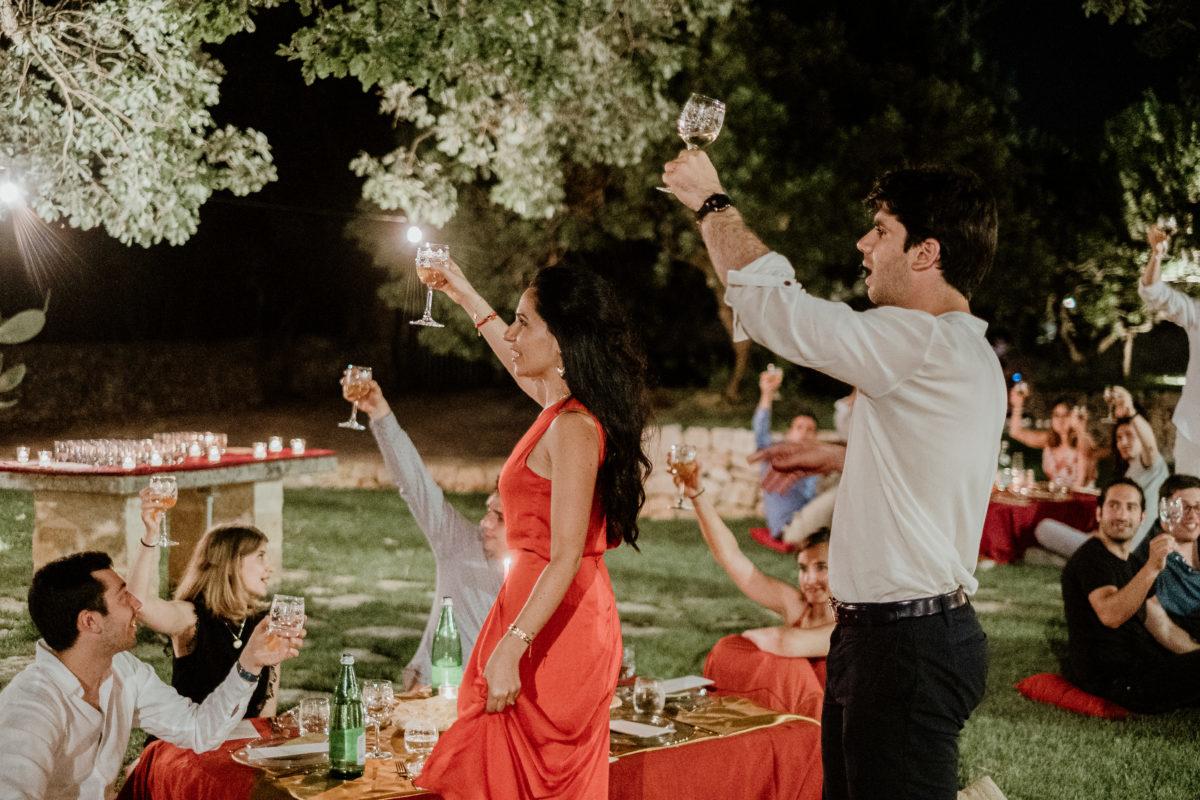 A MAGNIFICENT SETTING FOR A MEMORABLE SHABBAT
---
Shabbat is another important spiritual moment in a Jewish wedding. You can definitely organise your Shabbat meal in Corsica or Italy on your wedding eve. Go for a beach party on the most beautiful beaches of Italy before your Shabbat dinner in a beautiful orangery under starry skies. Enjoy a typical Italian kosher-style buffet by the pool the following day. Our team has selected the most spectacular hotels in Italy and Corsica to create a warm, chic and unique kosher wedding as per your wedding budget and number of guests.
---
TAKE YOUR WEDDING VOWS UNDER A HOUPPA

---

WITH AN ITALIAN TOUCH
---
Once your civil marriage is celebrated, the bride and groom can get married in a religious ceremony in a synagogue. The religious ceremony can take place outdoors, by the sea or in a masseria. In such cases, the houppa, the religious arch, will be directly placed in the wedding venue. A houppa symbolises the family home and this is why the bride and groom stand under it with the rabbi and their loved ones during the ceremony. Our wedding destinations also offer timeless and picturesque landscapes that make for idyllic wedding venues to host your Jewish wedding ceremony. Create a magical atmosphere in the midst of a trulli. Celebrate your love in the alleys of olive trees or on the fine sandy beaches of Corsica. All these natural treasures are enough to immerse you in a dolce vita atmosphere. Our wedding planners know all the secrets to sublimate your houppa with local floral designs as per your tastes and preferences. We will create your personalised arc of love in an atmosphere filled with a soft Italian fragrance.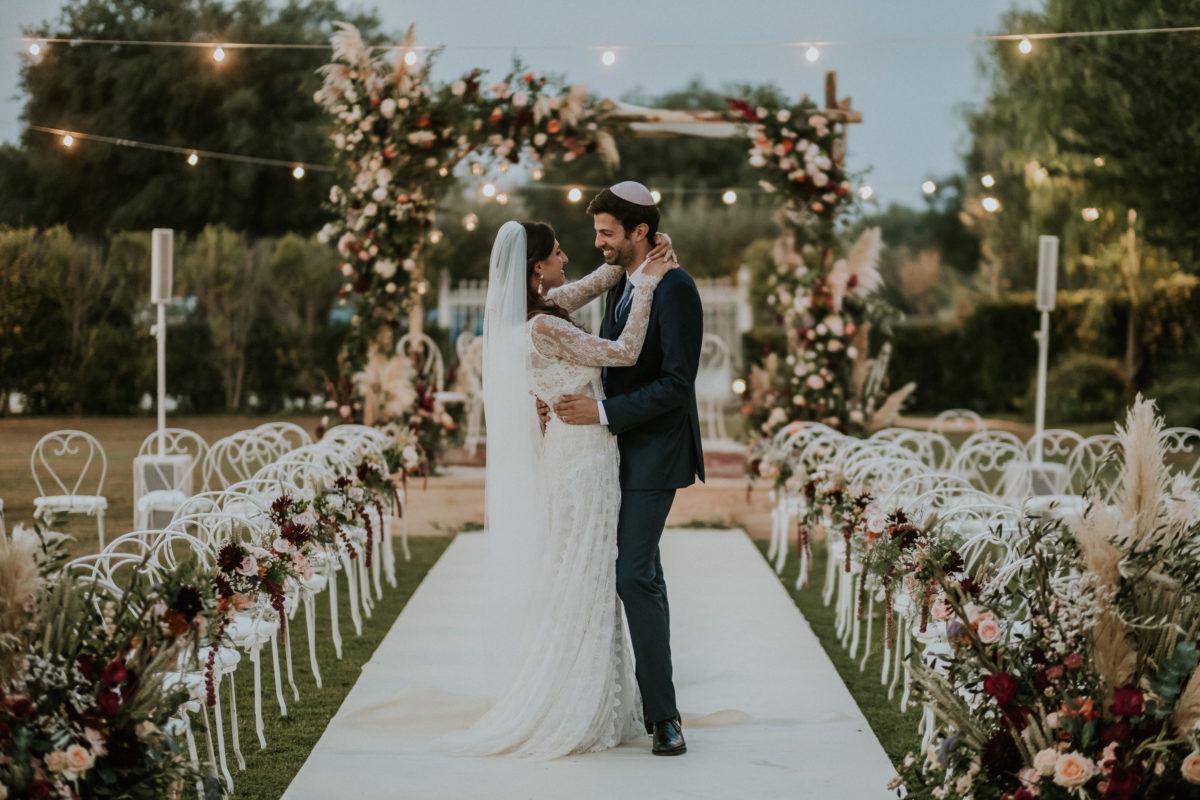 ---
INDULGE IN KOSHER-STYLE FOOD WITH A LOCAL

---

TOUCH
---
You would love to have an Italian or Corsican kosher meal during your wedding celebration? Well, we have good news for you – Noces Italiennes has selected the best chefs of the local gastronomy for you and opens door to local kosher businesses. Our caterers provide you with refined and top-notch dishes and allow your dear guests to enjoy the best of Italian and Corsican flavours: antipasti, mozzarella, burrata, risotto, local fish or meat dishes and many other local specialities. We also offer culinary entertainment with live-cooking services for you and your guests to discover ancestral and traditional cooking practices. The Kashrut laws can also be supervised by a shomer and the Rabbi of Rome or the rabbi of your choice.
---
CELEBRATE YOUR UNION WITH AN ITALIAN RABBI
---
Although Jewish marriages are characterised by a festive atmosphere and several customs, it remains a very codified event. Rites and traditions are at the heart of a Jewish wedding celebration and hence require careful and anticipated preparations. To start with, your rabbi is the one in charge of your Jewish wedding preparation. He is also the one who will guide you in all your steps by explaining all the duties and responsibilities you will have to fulfil. All meetings to prepare your wedding ceremony must be held a year before. The soon-to-wed also have to constitute their marriage file and send it to our team if they wish to celebrate their religious wedding by a rabbi in Italy. Depending on your desires, we can also put you in contact with a local rabbi for your wedding celebration, the writing of the Ketubah, the purchase of the tallit and the Shabbat ceremony. You can also ask your rabbi to join you in Corsica or Italy to celebrate your Jewish wedding ceremony. In either case, it is important to communicate all these details with us right from the beginning so that we can book a rabbi and his team for your special day.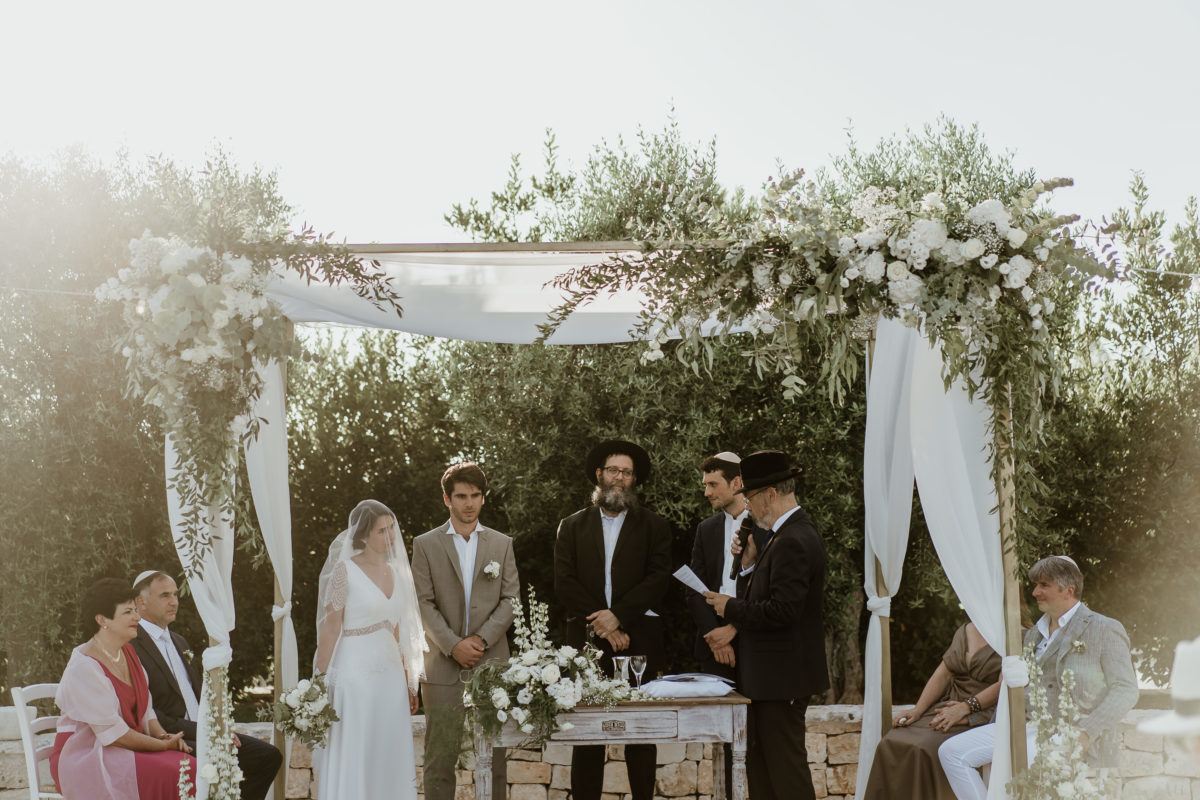 ---
TAKE YOUR MIKVEH IN MEDITTERRANEAN WATERS
---
Mikveh is another special ritual in a Jewish wedding celebration. Before the religious ceremony, the bride-to-be must take a dip in a traditional water bath to purify herself. If the wedding is held abroad, the kala (bride) has two possibilities: she can either choose to take her mikveh where she's staying but she will be separated from her future husband until the wedding day or make the most of crystal clear seas in Italy to take her mikveh. To realise the tevila (immersion), the bride has to take a complete dip in any natural source of water: sea, river, lake etc.
---
GET AN INSIGHT OF A JEWISH WEDDING CEREMONY
---
The groom is the first one to enter the synagogue covered with a tallit, prayer shawl. He is then joined by the bride with a veil on her face. He gets to meet her a few metres in front of the houppa before he gets to see her face. All the male guests present in the synagogue must wear the kippah. The religious ceremony begins with the blessing of a symbolic cup of wine by the rabbi who then proceeds to bless the couple and read the prayers. The union is officialised spiritually when the groom puts the wedding ring on the bride's right index finger. The rabbi then reads out the Ketuba, the Jewish religious marriage contract which the groom would have signed before the ceremony. The religious document describes the duties of the newly wed and the foundations of the Jewish home. The rabbi continues by reading out the 7 blessings of a union over the symbolic cup of wine which the groom then breaks with his right foot to commemorate the destruction of the Temple in Jerusalem. The bride and groom leave the houppa to join their loved ones in cries of joy and happiness – Mazal Tov!